Digital caricatures Photoshop
Do you like jokes? Give your friends a photo caricature. They will be very happy.
Book a caricature of your enemies and unscrupulous competitors. They will come into a rage, worry, make mistakes, so that you can finally nail them to the wall.
Caricature is a fun alternative to traditional portraits. The idea is to satirically exaggerate, highlight, emphasize or downplay certain features, to create a humorous idea of a person, his character, lifestyle. Digital caricature combines classical art, advanced technology, creative thinking, imagination and good sense of humor.
Cartoons on Celebrities
How recognizable is the character? It all depends on the cartoonist, one small detail can tell a lot about the nature and habits of a person. For example, a bottle of beer or a sports car in the background will reveal the entire inner world of the hero. What is the difference between a photo cartoon and a portrait? On the photo portrait is our character, as he really is. With all its flaws, a small nose, ears, a pimple on his forehead, etc. A good photo caricature will help to eliminate all these defects.
Testing: our cartoons on celebrities. (fragments):
Party King Boris Johnson;

Olaf Scholz - Liverwurst;

Beauty Liz Truss;

Bloody Dictator Putin;

Fearless hero Volodymyr Zelensky;
Are they alike? It's up to you. But Saakashvili and Obama will probably like it.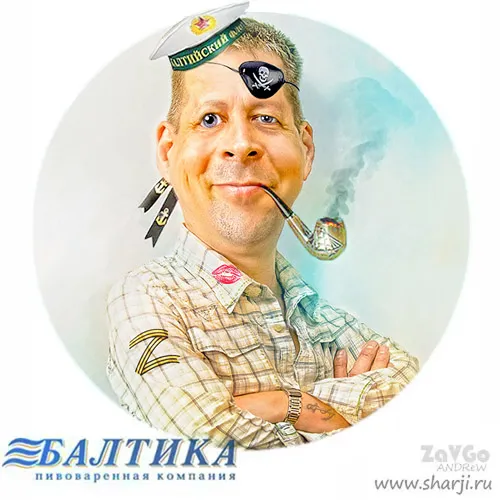 Male social media avatar.

Photo Caricature
Author's Photoshop technique. Cartoons, caricatures: on holidays, weddings, corporate events or presidential elections. Your enemies will be defeated!
With the help of our cartoonists and their great sense of humor and good taste, you will receive an exclusive gift. Created from photos of your friends or girlfriends. The word «caricature» is international, understandable in all languages, derived from the Italian "caricature", to exaggerate.
Advice. If you do not have a sense of humor, you are a frowning and angry Boss and your colleagues gave you a cartoon for your anniversary... Do not stomp your feet, swear or dismiss your subordinates. Tell me, are you satisfied, ask for an extra bonus to the cartoonist. And then you will be recognized as a cheerful leader. You get a good reputation and your business will soon be on the rise.
Celebrity digital caricatures Russia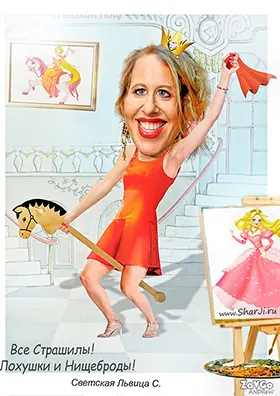 Socialite Ksenia Sobchak.
Variety kings Philip Kirkorov, Nikolai Baskov, Sergei Zverev. (Friend
s).
Talk show Andrey Malakhov
Caricature Service
Our technology for creating digital cartoons is confidential (secret). We use several programs, from adobe Photoshop and Lightroom to Imagenomic Portraiture, as well as many others.
Our photographer uses a professional digital camera, portable lighting, as well as a background «on springs». All photos are of studio quality and high resolution. We are developing and improving. The next cartoon may be better than the previous one.
Completed orders will not be displayed publicly without the consent of customers. Except for politicians and celebrities. We're sorry, we were unable to reach them.
Red Sonya.

Cartoon before and after photoshop.