Wedding photoshop
Is artistic retouching necessary when there is an abundance of professional equipment around?
Many owners of expensive cameras with the "auto" modefancy themselves great professionals.
However, even experienced photographers cannot make every photograph a masterpiece. And to become such there is a photo retouch, Photoshop programs, Lightroom and many others.In our website you can familiarize yourself with professional photo editing, wedding photo manipulations, which allows you to create works of modern art. Often the pictures do not fully convey the atmosphere and the mood. It is the artistic processing of images that shows hidden emotions.
Wedding Photoshop will make your pictures unique and original. Retouching should be as inconspicuous as possible, hide all the flaws, but at the same time preserve the naturalness of the image.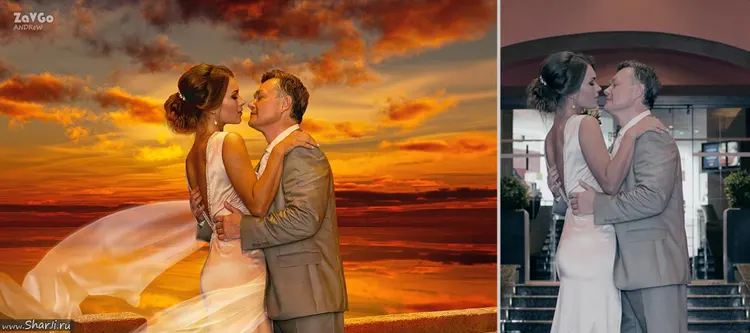 Wedding Photoshop before and after
If you decide to change the hairstyle, you do not have to go to the hairdresser. No need to go under the knife of a plastic surgeon to become younger and more attractive, wedding Photoshop is here to help you. LOL
Computer-based image editing allows you to ensure perfect image quality without sacrificing celebration. Professional face retouching is a quick and painless way to look more beautiful and younger. Similarity and recognition are guaranteed! We do not cross the line whereartistic fiction begins.
Art retouching
Many novice photographers try to copy the retouch of famous photographers. They search the Internet for plugins, presets, software. If you learn the tools for tone correction and color correction, you do not need presets. You will see and understand what professional retouches have done. You will be able to repeat it again.
Do not look for presets. Better study Photoshop or Lightroom. Ultimately, you will spend time on something more worthwhile than finding a preset.


Testing:Source / Automatic free retouching online/Author retouching
Professional face retouching includes:
Elimination of skin defects: minor scratches, acne, scars, freckles, wrinkles

Teeth, eye whitening, makeup removal

Facial skin treatment, preserving the texture (important)

"Hairstyle mode", work with hair, virtual make-up

"Face transformation", the shape of the head, lip, body shaping, etc.

Digital image editing is an important step in the work of the photographer.
Wedding digital art
Each couple of newlyweds is individual and unique. For some, a pink sunset is good, others would prefer a full moon night. Fun and passion, drama, romance. In the classical sense, artistic retouching should hide all the flaws and highlight, competently emphasize your merits. The main thing here is naturalness, not to go beyond the reasonable, which many retouchers cannot reach. There is the concept of so-called "plastic skin" without pores. Overly whitened eyes and teeth that glow in the dark, and so on.